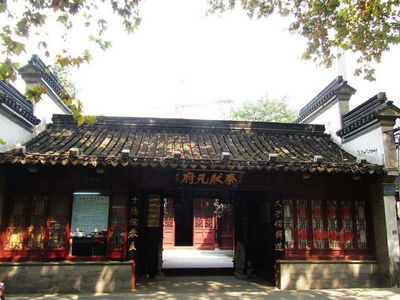 Also named Residence of Qinzhuangyuan (Qin Dashi as one of No. One Scholars), it is an important part of "The residential complex in Qinhuai area." Located at No. 57 and No. 59, Changle Road, Nanjing, it is the former residence of Qin Dashi, the 43th No. One Scholar in the Qing Dynasty. Qin Dashi (1715-1777), also respectively styled as Luyi, Jianquan and Qiutian Old Man, was a native in Jiangning. In 1752, he became one of No. One Scholars through the imperial civil examination under Qianlong reign of the Qing Dynasty as well as assumed the official post of an academician and the chief examiner of the county-level examination in Fujian province. In 1763, having retired and returned to his hometown, he bought the residence previously owned by He Ruchong, a noted academician in the Ming Dynasty, i.e. his former residence kept at present. Former residence of Qin Dashi is now a unit of cultural relics under the protection of Nanjing municipality.
Address:
No. 57 and No. 59, Changle Road, Nanjing
Tel:
025—52254626
The ticket price:
8 Yuan/per person
Open hours:
9:00-11:30 14:00-17:00
The time suitable for the tour:
The whole year
Transportation routes:
Fuzimiao Station of Metro Line 3, public bus No. 1 and No. 2, No.202, No.204, No. 7, No. 14, No. 16, No. 31, No. 40, No. 33, No. 44, No. 49, No. 81, No. 87 and No. 304 leading to Jiankang Road (Fuzimiao) Bus-Station or Changlelu Bus-Station.