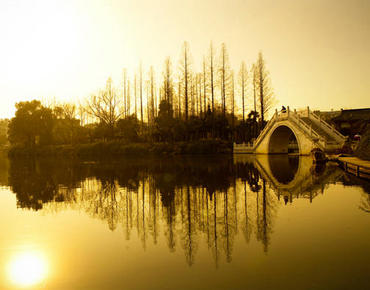 As a bright pearl in Qinhuai scenic area, it covers a total area of 229.41 mu (one hectare = 15 mu) with a lake-water area of 57.35 mu. Successively called Xu Zhongshan Garden, Eastern Garden and Taifu Garden in history, it was a garden of Xu Da (Zhongshan King), a founding general of the Ming Dynasty. Thanks to its charming sceneries of unique rustic appeal, it has always been the place for many noted scholars to get together, writing poems an drinking wine . In the period of the Republic of China, it was formally turned into Bailu Park. Featured by such natural sceneries as hills, the lake, the city, woods and peculiar humane resources as well as admiration, recreation and interaction in integration, it embodies the harmony of ecology, humanism, history and culture. Among its ten scenic spots, the most famous ones are "Weeping willows over the lake in spring", "Charming flower-buds of lily magnolia", "Red apricots in rain" and " Gorgeous peaches" which are known as "Four scenic spots of Bailu Park in spring". Water street with seven kinds of elegance is the core scenic area demonstrating the appeal of history and culture since it is characterized by "Music, chess, calligraphy, painting, singing, dance and tea" in combination with various tourist functions such as traditional song and dance performances, exhibition of calligraphy and painting, food and beverage of special flavors and display of folk handicrafts, hence providing tourists with a venue for meticulously enjoying culture and leisure. Though being quite close to prosperous and bustling Fuzimiao, it is marked by a realm of spaciousness and sparseness, deserving to be a Shangri-la.
Tourists can directly reach the park via riding on the pleasure boat with paintings on the Qinhuai River, enjoying natural sceneries, watching a large performance of "Anchoring over the Qinhuai River" at a real scene, feeling historical pulse and savoring cultural appeal.
Address:
No.1 Bailu Village, Fuzimiao
Tel:
025—86908381
Fax:
025—86908366
The ticket price:
20 Yuan/ per person 6:00—17:00
40Yuan/per person (performance-watching excluded) 18:00—22:00
80 Yuan/per person(performance-watching included)18:00—22:00
The time suitable for the tour:
The whole year
Transportation routes:
Public bus No. 23, No. 43, No. 63, No. 81, No. 87, No. 88, No.301 and No.304 leading to Wudingmen Bus-Station (station of arrival).