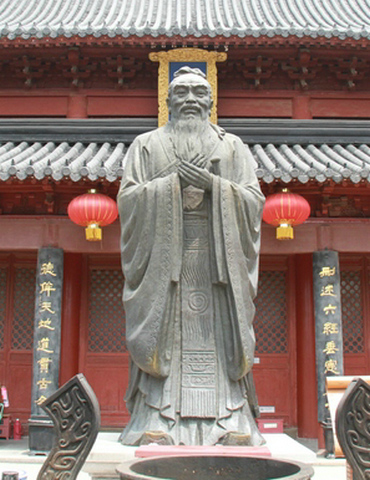 The axis of Confucian culture, Fuzimiao, Nanjing is the core spot of Qinhuai scenic area in Fuzimiao, or rather, the temple for honoring Confucius, the famous thinker and educator in ancient China.The entire axis of confucian culture is composed of Confucius Temple and the Palace of Academy. Scenic spots extending from the south to the north in order are as follows, i.e. the Big Screen-Wall, Panchi Pool, Tianxia Academic Tablet, Linxing Gate, Dacheng Gate, Dacheng Hall, the Gate of the No. One Academy in Southeast China, Mingde Hall, Bell-Drum Tower, Zunjing Pavilion (Grand Folk-Art Garden in Fuzimiao), Weishan and Jingyitin Pavilion. With a well-balanced layout on the left and the right and architectural styles typical of those in the Ming Dynasty and the Qing Dynasty, Fuzimiao distinguishes itself most outstandingly in the integration of the temple, fairs, streets and scenic spots.
The exhibition hall has such cultural relics as the most famous bronze statue of Confucius in China, 38 mural paintings inlaid with colorful pebbles reflecting sacred writings of Confucius, a picture of "Confucius consulting rituals" as a stone-carving of the Six Dynasties, a Chinese marble statue depicting Siya Sage and tablets carved with poetry of celebrities. In addition, "Display of Yuhua Pebbles", "Display of Ancient Ritual Culture" and "Performance of Elegant Ancient Music" are presented here all the year round. Since its establishment, the exhibition hall has been receiving over 600000 tourists every year. Annual lantern-show during Spring Festival, the temple fair of folk culture and large music and dance performances for honoring Confucius attract many tourists.
Besides, local master folk artists in the Grand Folk-Art Garden in Fuzimiao also give on-the-spot demonstration of porducing folk handicrafts for tourists, such as colorful lanterns, paper-cutting, micro-sculpture, rope-knotting and burnt paintings, etc. Tourists can also experience local customs and habits at any time and any place along the Qinhuai River.
Address:Fuzimiao Square
Tel:025—86628639, 86620123;
Fax:025—86620123
The ticket price:30 Yuan/per person for visiting the axis of Confucian culture
and 10 Yuan/per person for visiting the Grand Folk-Art Garden
Open hours:8:30----22:30
The time suitable for the tour:The whole year
Transportation routes:Sanshanjie Street Station of Metro Line 1, Fuzimiao Station of Metro Line 3, public bus No. 1 and No. 2, No.202, No.204, No. 7, No. 14, No. 16, No. 31, No. 40, No. 33, No. 44, No. 49, No. 81, No. 87 and No. 304 leading to Jiankang Road (Fuzimiao) Bus-Station or Changlelu Bus-Station.