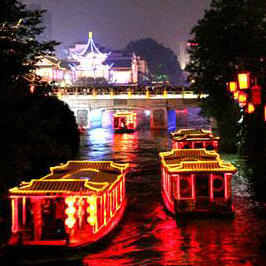 With a total length of 110 kilometers, the Qinhuai River is the "Mother River" in Nanjing. When flowing into the city, it is divided into two tributaries at Jiulong (nine-dragon bridge) Bridge outside Tongji City-Gate in the eastern suburbs of Nanjing. As the moat of Nanjing, one is called the outer Qinhuai River circling the city-wall built in the Ming Dynasty. Termed as the inner Qinhuai River with a total length of nearly five kilometers and historically reputed as "Five-kilometer Qinhuai", the other enters the city from Dongshuiguan Sluice and exits from Xishuiguan Sluice. The inner Qinhuai River is the cream of Qinhuai scenic area as it is flanked by such tourist and cultural spots as Dongshuiguan Park with Historical Remains, Qinhuai Water-Pavilion, Taoye (peach-leaf) Ferry, Bailu (egret) Park, Jiangnan Examination Hall, Cuiyuan Park, Memorial Hall of Wang Dao and Xie An, Former Residence of Li Xiangjun, Zhanyuan Garden(Museum on the History of the Taiping Heavenly Kingdom), Former Residence of Qin Dashi, Former Residence of Shen Wanshan and Zhonghua City-Gate Enclosure.
Boating over the Qinhuai River not only enables you to enjoy free-of-charge introduction by the tour-guide all the way, but also fully admire over forty scenic spots such as former residences of celebrities, historical remains, noted bridges, famous gardens to the south of the Yangtze River and Qinhuai colorful lanterns, watch large water-borne performance of "Anchoring on the Qinhuai River" at a real scene as well as listen to the tour-guide to narrate historical allusions and anecdotes. Nowadays, "A cruise on the pleasure boat with paintings over the Qinhuai River"has become the first choice of tourists in Nanjing. One who fails to take this cruise in Fuzimiao (Confucius Temple) area is regarded as failure to be in Nanjing.
It takes about 50 minutes for the whole journey by the pleasure boat with paintings. Such a cruise in the daytime offers you with a free-of-charge visit to the former residence of Li Xiangjun. There is free-of-charge introduction by the tour-guide on every pleasure boat with paintings.
Address:Panchi Dock, Fuzimiao
Tel:025—52300870/52205010
Fax:025—52205010
The ticket price:60 Yuan/ per person in the daytime and 80 Yuan/ per person in the evening
Open hours:9:00-22:00
The time suitable for the tour:The whole year
Transportation routes:Sanshanjie Street Station of Metro Line 1, Fuzimiao Station of Metro Line 3, public bus No. 1 and No. 2, No.202, No.204, No. 7, No. 14, No. 16, No. 31, No. 40, No. 33, No. 44, No. 49, No. 81, No. 87 and No. 304 leading to Jiankang Road Station (Fuzimiao) or Changle Road Station.